The Modern Lactation Team
Meet Janet Colson IBCLC & Jessica Goodman IBCLC, Private Practice Lactation Consultants serving families in and around Garden City, Ka.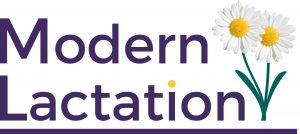 If you're a new parent or are expecting a new baby, you may be filled with questions about breastfeeding. When you work Modern Lactation, you'll get all your questions answered–and then some!
With over a decade of combined experience supporting families in the intimate and important area of infant feeding, Janet & Jessica have the training and the experience to help you with every breastfeeding challenge you may be facing.
WIC Discount Available
Home Visits & Office Visits
Things the Modern Lactation team can help with include
Latch and Positioning
Plugged Ducts and Mastitis
Tongue and Lip Tie
Nipple and Breast Pain
Slow Weight Gain
Low Milk Supply
Non-Latching Baby
Preparing for Breastfeeding
Returning to Work
NICU challenges
Twins and triplets
Breastfeeding After Reduction
And more!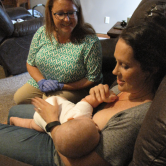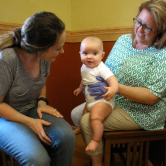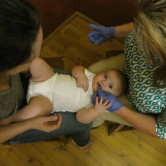 About Janet Colson, IBCLC, RLC
Janet Colson, IBCLC, RLC of Modern Lactation, LLC

Janet is an International Board Certified Lactation Consultant certified since 2010.
She served as the Kansas Breastfeeding Coalition Treasurer for 3 years, currently a Co-Facilitator of the Community Breastfeeding Coalition in Finney County for 9years, and Facilitator of the Frontier Breastfeeding Coalition covering 22 Southwest Kansas counties for 4 years. She led the Baby-Friendly Hospital Initiative for St.Catherine Hospital as a staff trainer and lead Lactation Consultant and program developer, achieving that milestone in 2017.
She moved into private practice with Modern Lactation, LLC, in 2018, and now serves SWKS and regional rural areas in Colorado, Texas, and Oklahoma as the only private lactation practice in the region providing 2 IBCLC's for Telehealth, Office visits, or Home visits 9after COVID-19) with evidence-based care.
Janet has 2 children she breastfed for 6years, raising them with her husband in Garden City. She balances parent education with compassionate support around infant feeding and development.
Connect with Janet on Facebook
Enhancing breastfeeding experiences for all moms and babies throughout Southwest Kansas
"Janet is so GREAT!! She always listens to my needs & questions & answers them perfectly!!"
Excellent Experience! I don't know how I would know these nursing strategies without Janet, Lifesaver!!
Happy Client
As a new mom breastfeeding has been a little stressful and Janet really calmed me down and got me on the right track!
Happy Client
About Jessica Goodman, IBCLC, RLC
Jessica Goodman, IBCLC, RLC of SWKS WIC & Modern Lactation, LLC

Jessica is an International Board Certified Lactation Consultant certified since 2018. She serves on the Communications Committee for the Frontier Breastfeeding Coalition covering 22 SWKS counties and is a member of the Kansas Breastfeeding Coalition.
She was on the Lactation Team for the Baby-Friendly Hospital Initiative achieved at St. Catherine Hospital in 2017 as a Certified Lactation Educator.
She is a Breastfeeding Counselor with Breastfeeding USA, serving families through online connections with resources and support. In 2018, she became a WIC Breastfeeding Peer Counselor, and currently holds a dual role as an IBCLC with Modern Lactation, LLC providing Telehealth, Office, or in-home consultations (after COVID-19).
Jessica has 2 children who she breastfed for 3.5 years raising them with her husband and extended family in Garden City. She is committed to helping families thrive!
My first experience with Janet was a little over four years ago when I had given birth to my oldest son. I was a first time, scared mom who really wanted breastfeed… I had no idea what I was doing. She was compassionate, patient, and supportive. She continued to offer encouragement throughout our nursing journey for 2.5 years, all the while being one of the few supporters of extended nursing/ nursing through pregnancy. Along came son number two and her support through his nursing journey has been phenomenal. He had a "tongue-tie" and we had a revision done to support an optimal breastfeeding journey. She appropriately assessed, referred, and assisted with follow up care to this day, he's currently 2 years old and her support has not wavered. On any given day, I know if I need any support, she will be there. Her support has been a game-changer for my boys' lives, and my life as a mother.
Kelsi Johnston
Jessica has been amazing for my son and I. He was lip/tongue-tied and I had nerve damage from my other children. She was able to give me hope, encouragement, and strength to get through the tough situation we were going through. She listened to my concerns and addressed them fully. Jessica always made sure I was comfortable doing the exercises and stretches my baby needed. The one on one time she spent making sure not the only baby was okay but that I was okay physically and mentally showed how compassionate she has for her clients and career. Over the past 5 years and 3 children, Jessica has been a constant source of love, knowledge, and professionalism. She continues to raise the bar of support and awareness of nursing mothers to develop an amazing bond and insure the health benefits only a mother can provide.
Megan and Jeremy Kemp